Your vehicle is an important part of your family's everyday life. Family-friendly features make life a little easier for everyone. Safety is probably the largest priority when choosing a family car. Following are some safety features that ensure a vehicle is family friendly and safe on the road.
1) Reverse Cameras
Backing up in parking lots or out of driveways can be tricky – even more so when you're in a large SUV that's full of passengers, whose heads may make it even more difficult to clearly see what's behind the vehicle.
With reverse cameras, the driver is able to view exactly what is behind them by looking at a screen on the dashboard. It can save a driver from dents – and pedestrians and pets from disaster.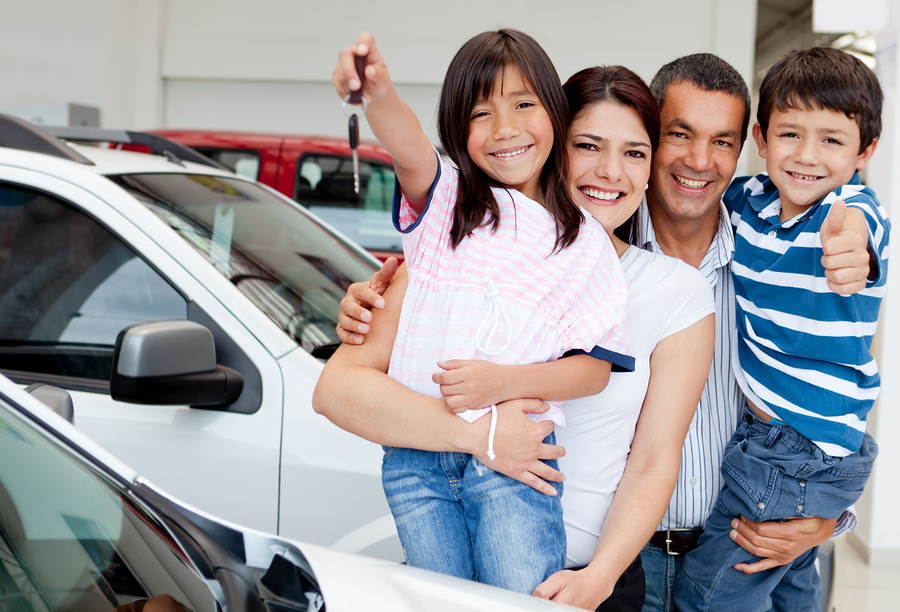 2) Collision Avoidance Warning
Driving cautiously helps prevent accidents, but things happen. A vehicle's collision warning system alerts the driver with lights and alarms when the car in front of them is slowing down or stopped. If the driver fails to react, the car can engage the brakes automatically, hopefully completely avoiding a collision.
3) Passenger Seatbelt Notification
Every vehicle has a notification system that alerts the driver when a passenger isn't using their safety belt. The passenger seatbelt notification system lets the driver know which passenger needs to buckle up. This is especially handy when there are three rows of seating and lots of riders.
With safety and precautions under lock and key, now it's time to check out the features that truly make a car or SUV family friendly – the features that make loading up, traveling, and running errands easier for your busy family.
4) Back Seat DVD/Blu-Ray
When traveling in a large vehicle full of kids and passengers, it can get restless and irritable. Keeping the masses entertained helps the time pass, and with rear viewing screens and DVD/Blu-Ray players, the back rows can watch a movie while riding. Some vehicles even come with headphone outlets to keep the sound minimal.
5) Rear Controls
When a large SUV has extra seating and is full of passengers, there can be six to 10 people riding in the same vehicle. Rear controls allow the driver to focus on the road while those riding in the back can control the radio station, volume, and even the air conditioner settings. It's a great way to keep everyone happy and leaves the driver free to keep his or her attention on the road.
6) Integrated Sun Shades
A sleeping baby or child in the back will certainly be happier with the sun shielded out, completely. Retractable sun shades are convenient and helpful because they cover the entire window. Also, there's no more bothering with little suction cups and constantly dirty windows. Integrated sunshades retract entirely are kept out of the way when not in use.
7) Motion-Activated Door
Going shopping for groceries, school supplies and whatever else is part of the reason you need a family-friendly automobile. When arms are full and there isn't a way to open the door, a motion-activated hatch is a lifesaver. Just waving a foot under the bumper opens the back hatch. Easy!
8) Compartmental Floors
Having a large SUV or vehicle is helpful when hauling a lot of passengers. With compartmental floors, the seats can be laid into floor compartments for those times you need to haul stuff instead of people. The seats can then be easily returned to their upright position.
**Bonus**
There is one feature being introduced in newer vehicles, and it's a wonder that it hasn't been integrated before now. Some car companies offer a vehicle that comes with an installed vacuum. It runs entirely through the car and can be emptied and cleaned just like a normal vacuum cleaner. How cool is that?
The busy life of work, kids, shopping, and everything else call for a durable, convenient, and multi-functional vehicle. Each feature on this list makes all the hassles of travel, taxiing, and hauling just a little easier. Finding a vehicle that works best for a family, has the best safety essentials, and offers the most convenience is a job in itself. But the reliability of vehicles with these types of features is high, and having a family-friendly vehicle saves time, money, and stress.